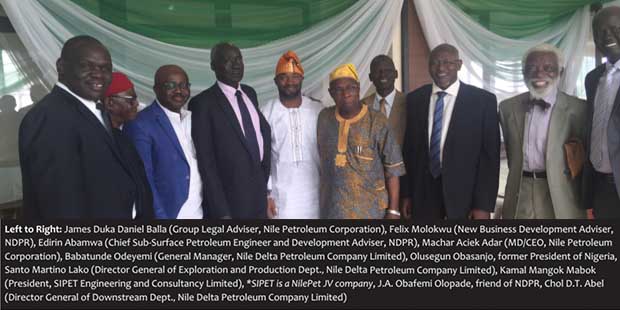 Nigeria's department of Petroleum Resources, the regulatory agency, rolled out a warm welcome for the board of directors and executive management of Nile Petroleum and Gas Corporation Nile Pet, South Sudan's state hydrocarbon company, who were on a working visit to the country.
The South Sudanese had gone to Nigeria for a quarterly meeting of the Nile Delta Company Limited (Nile Delta), a joint venture between the Nile Petroleum and Gas Corporation and a Nigerian independent named Niger Delta Petroleum Resources NDPR.
Machar Aciek Adar, Managing Director/CEO Nile Pet, led the guest list which included Chol D.T. Abel, Director General, Downstream NilePet; Santo Martino Lako, Director General, Exploration and Production Nile Pet; James Duka Daniel Balla, Group Legal Adviser and Board Secretary Nile Pet; Kamal Mangok Mabok, President, SIPET Engineering and Consultancy Limited and a director of NilePet and Odrek Rwabwogo, Chairman Sovereign Investment Group, also on the board of Nile Pet.
The Nile Delta Petroleum Company Limited (Nile Delta) was established in 2013 by NilePet and NDPR, on a 51:49 percent ownership split, for the purposes of optimizing crude oil production in the light of production performance challenges observed in the South Sudan oil and gas sector. It was NilePet's first Pan-African joint venture, and it was created only after NilePet had sent its staff to Nigeria to observe firsthand, how gas flare-out and other operations at NDPR's Ogbele Integrated facility were achieved with wholly Nigerian staff.
The two-fold mandate for Nile Delta thus agreed by both parties are:
GAS UTILIZATION AND MONETIZATION – To propose solutions towards
the elimination of gas flaring and the commercialization of gas through the implementation of gas production, processing, distribution, and sale projects in South Sudan
CRUDE OIL PRODUCTION OPTIMIZATION – To propose solutions, designed to achieve the reduction of produced water, maintenance of reservoir pressure, and ultimately increase the volume of net crude oil
production.
Nile Delta was officially incorporated on the 16th of April 2015 in accordance with the South Sudan Companies Act of 2012.
Tunde Odeyemi, General Manager of the joint venture company Nile Delta, who also flew into Lagos, Nigeria from Juba in South Sudan, said the first four board meetings had been held in Juba. This fifth was the first to be held in Lagos, which "provided a unique opportunity for several strategic visits, including an inspection of the Niger Delta Petroleum Resources' Ogbele Oil and Gas Field, during which the MD of Nile Delta, Mr. Machar Aciek Adar, was particularly impressed by the success of NDPR's Mini Refinery, and committed his team to developing a similar concept in South Sudan".
The visitors also paid a courtesy call on Olusegun Obasanjo, former President of Nigeria, in Abeokuta, a quiet city located to the west of Lagos.
By:officialnile
3 responses comment